Committee
Convenors
Prof. Em. Yoichi Ando, Kobe Univ. Japan
Yoshiharu Soeta (Chair), National Institute of Advanced Industrial Science and Technology (AIST), Japan

Scientific Committee
Ryota Shimokura, Osaka University, Japan
Kosuke Kato, Osaka University, Japan
Yosuke Okamoto, Daido University, Japan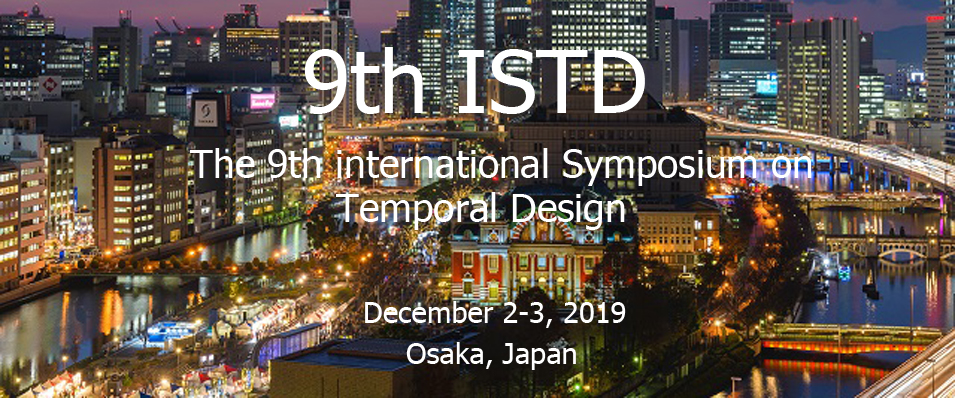 The symposium

The International Symposium on Temporal Design, held every two years, is an international forum
for researchers interested in the Temporal Design Theory. It aims at going beyond the traditional
design concepts, primarily concerned with issues of spatial design only, taking into account the
temporal dimension of life too. This brings to a better blending of natural activities and human
rhythms. To achieve "temporal design" one must approach design problems with knowledge of the
"temporal dynamism" of the interactions between human creativity and its effects on the natural
environment, and between human activities and built and natural environment. In particular, cultural
development may favour a lifestyle pattern that does not attempt to go against the forces of nature.
It is invaluable the contribution that this approach can give to architecture, engineering, pedagogy,
psychology, and many other disciplines.
Important dates
Abstract Submission Deadline: 28 June 2019
Notification of Acceptance: 31 July 2019
Proceeding Paper Submission Deadline: 30 September 2019
Call for Papers
Guidline for Abstract
Provide all information requested on the Abstract submission Form.
The abstract must be in English only and may not exceed 300 words.
All submitted abstracts will be reviewed and notifications about acceptance will be sent to
corresponding authors.
Venue
Sigma Hall, Osaka University (Toyonaka Campus)
1-3 Machikaneyama-cho, Toyonaka City, Osaka, 560-0043, Japan
Regstration
The registration desk will be on the groung floor of Sigma hall on December 2-3.
Registration fee shoule be paid at the registration desk.
Regular: 20,000 JPY
Student: 5,000 JPY
The registration fee includes Symposium material, Addmission to the Scientific sessions and Coffee
break, but does not include Lunch or Banquet.
Banquet
Banquet will be held on the evening of December 2, 2019